What are custom tap handles and what makes them so important? A custom tap handle is a specially designed and beautifully crafted mini billboard that acts as a calling card for beer and beverages companies in bars, restaurants and cafes worldwide. Next time you're out, take notice of those beer taps sitting on the front line of the bar and ask yourself how these influence your drink order.
With over 6,000 craft breweries competing in the US today, in addition to the 850 opening annually, each must stand out to be successful in this beverage renaissance. Most consumers are not craft beer connoisseurs so reading beer lists can be very daunting. Well designed tap handles summon new customers while prompting patrons to come back for more. Custom Beer Handles has found a way to link the consumer's taste & visual experience to optimize the brand recognition of each brewery by offering distinctive tap handle designs.
Headquartered in Denver, Custom Beer Handles is now a leading manufacturer of tap handles for the craft beer and beverage industry. From design to delivery, we evolve client's branding dreams into the tangible reality.  Beverage companies need us to turn on the light bulb of awareness to see how our products & services advance their growth.
Let's shine a spotlight on our client, Taft's Brewing Company also widely known as Taft's Ale House. There is a heightened craft beer culture in Cincinnati, Ohio and it's been a wild ride for this successful craft brewery. Our team has worked closely with the brewery to develop an eye catching design that simultaneously works well in the market. At the end of the day, every tap handle design must also be functional and easy to use for bartenders. Below are some key custom design tactics we used for Taft's custom tap handles that are being sought after by everyone and quickly:
Dimension: These custom beer handles are primarily molded from a resin material that allows us to create dimension around their brand. The 4 sided base is includes the brewery logo and tapers toward the bottom so a bartender can find their comfortable place to pull a pint. The raised lettering is also hand painted, which allows the text to pop!
Branding: When you have epic branding and beer labels, showing them off to the world is a must. And that's exactly what we did here with the tops of each tap handle. Our production team prints and applies a permanent decal around each can topper that specifically matches their PMS color guidelines. There are several beer styles that are produced for every order and we will continue to update as their offerings grow.
Details: The mold of the entire topper is custom designed to reflect Taft's branding, specifically their beer cans. While consumers don't always see the top of the tap handle, it's a nice touch to recreate their real top of their can. The metallic finish of the can adds a bit of sheen that we associate with beer cans because…it's all in the details. Be honest- are you in the mood for a pint of their lager yet? We are!
In this blog post, you'll find visual examples of design quality, production methods and market functionality that have made the Taft's Brewing tap handle so fantastic. It is our absolute pleasure to produce the best tap handle designs possible so every brand stands out in a sea of competitors. We even donate a portion of our tap handle proceeds to charities on behalf  of our client's through our Taps Give Back program.
Are you currently designing a custom tap handle for your brewery, cidery, winery, coffee or kombucha company? Look no further! Custom Beer Handles is the #1 tap handle supplier in the US. We look forward to hearing from you and working together on your newest marketing initiative.
Yours Truly,
The Custom Beer Handles Team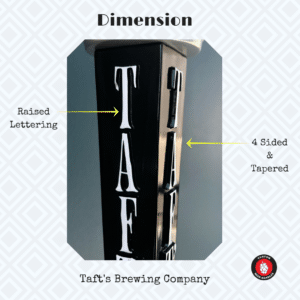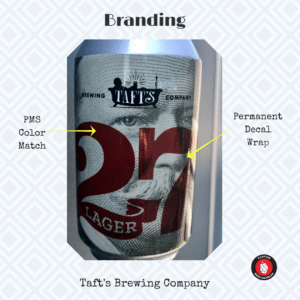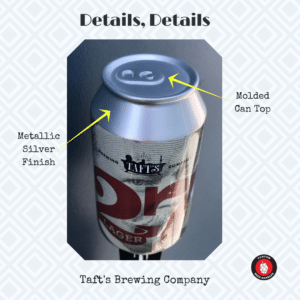 Contact [email protected] for more information and questions about this article.
Custom Tap Handles | Point of Sale Displays | Signage | Promotional Products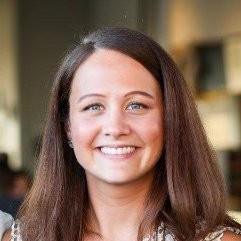 Jessica Pezzotti founded Custom Beer Handles with a mission to change the way craft breweries & beverage companies present their brand to the world. Her desire to disrupt the industry was rooted in a passion for branding and its relation to consumerism. Headquartered in Denver, Custom Beer Handles is now a leading designer and manufacturer of custom tap handles for craft breweries, wineries, coffee, and kombucha companies. The Taps Give Back Program that launched in 2018 donates a portion of the proceeds to charities and non-profit organizations on behalf of their clients. The on-tap phenomenon is just getting started and they are revolutionizing marketing for the craft beer and beverage industry. Last but not least, The Tory Burch Foundation selected Jessica as a 2018 Fellow, an elite program designed for women entrepreneurs nationwide. Cheers to that!